In early 2020, the New York Department of Motor Vehicles (DMV) was one of the first in the U.S. to approve typing biometrics as a compliant technique for student identity validation. In Part 141 of the DMV Commissioner's Regulations, the New York DMV explicitly mentioned keystroke analysis as an identity validation method for online accident prevention courses—officially known as the Internet Point Insurance Reduction Program.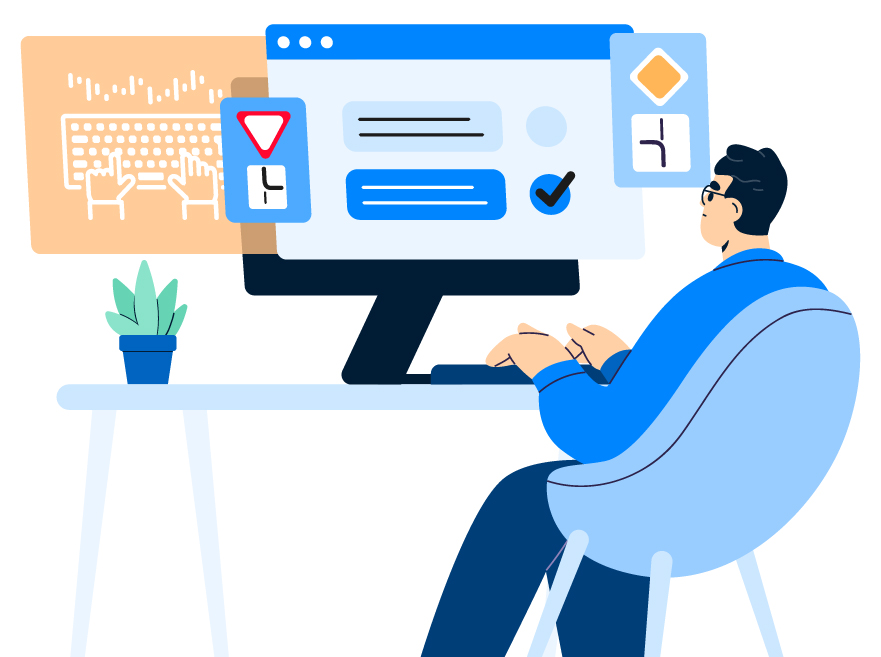 Now, another major step to embracing new identity validation techniques is made with the approval of biometrics, including typing biometrics — also known as keystroke dynamics, for the Prelicensing Course. In an announcement made public in October of this year, the NY DMV is now allowing students to take a 5 Hours Prelicensing Course to replace the Driver Education course (consisting of 24 hours of classroom instruction and 24 hours of in-car instruction) to take their road test and get their driver license. The Driver Education course is still an option for students that don't enroll in the 5 Hours Online Prelicensing Course.
Appendix E of the Online Prelicensing Course Pilot Policies spells out the student validation technique options for sponsors in designing the course programs. Among the techniques, keystroke analysis is a valid method assigned 5 points. Sponsors seeking approval for their OPL courses must have a minimum of seven points, using two or more of these techniques; however, one point must be for content questions. In addition, sponsors will have to meet rigorous legal requirements, including student validation and participation.
Unfortunately, not all of the validation methods presented in the document meet the criteria of the latest user experience standards web users are accustomed to. Therefore, during the 5 hours course, students might be repeatedly interrupted for identity validation. For example, a student will have to dial a number at least seven times for voice pattern recognition and validation.
Although no final exam must be passed, at the completion of each section or module, depending on the sponsor's course, the student will have to successfully complete a quiz answering 3 out of 4 questions or score at least 70% on each quiz to pass the course.
The NY DMV has already pioneered the student validation techniques acceptance and, it is expected that other industries will follow and new government applications and use cases will emerge.
What does this mean for Online Pre-Licensing Course providers?
When validating students' identity and course presence, course providers must choose between meeting regulatory requirements and offering a smooth user experience for course participants. Until recently, various proctoring methods have been used, including ID validation via webcam or voice recognition. These methods, although compliant, create a burdensome user experience and, in most cases, interrupt students from excelling and focusing on the course. At TypingDNA, various MOOCs and LMS's have already entrusted us with student validation.
Benefits of using typing biometrics in student identity validation
Academic institutions and various course providers can obtain a range of benefits by deploying typing biometrics as a student validation technique, even in highly regulated environments. They can also:
Create a seamless, uninterrupted course or exam experience for students
Offer greater accessibility to training, courses, and exams
Cut costs and reduce the number of resources allocated for student validation
Obtain the necessary certifications for your examination flow
The benefits above are enhanced by the ease of integration, excellent customer support, and scalability. With TypingDNA, course creators, MOOCs and LMS can easily verify students without burdening the learning experience with antiquated identity validation methods such as phone calls or privacy-intrusive webcams. This also translates into fewer refund claims and better customer satisfaction. Also, TypingDNA integrates with existing learning management systems and includes customizable risk thresholds to suit security needs while meeting regulatory requirements for keystroke dynamics authentication.
Learn more about how TypingDNA helped several MOOCs and universities to provide reliable and accurate student verification and authentication.