We are thrilled to be supporting Sophia Learning in their endeavor to offer students free access to ACE-recommended general education courses in these challenging times by providing free-of-charge typing-based authentication.
According to UNESCO, over a billion students are affected by current school closures globally, so Typing DNA decided to provide our typing-based authentication API for free to schools, universities and online learning platforms to ensure an easier transition to the online environment, as IT resources might be scarce.
Through July 31, 2020, Sophia is running an offer that aims to help students by providing access to a wide range of free ACE-recommended general education courses, eligible for college credit at many higher education institutions across the US.
The courses Sophia offers cover a variety of fields such as science, humanities, and business and include courses like Environmental Science, Introduction to Psychology, and Project Management.
What's really cool about these courses is that students don't need to buy textbooks and can learn at their own pace on their phones, tablets, or computers. Also, Sophia is able to transfer students' earned credits to their network of partners, and they can also send students' transcripts to official educational institutions.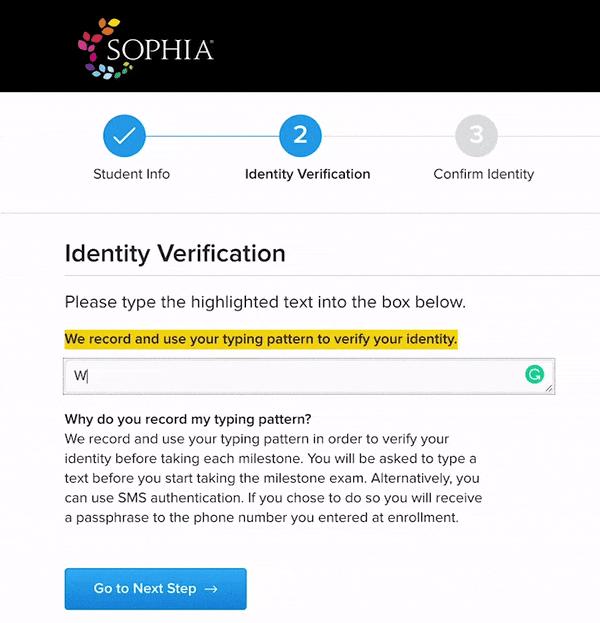 In light of this, TypingDNA is happy to contribute to Sophia's learning platform by offering our typing-based authentication to verify learners' identities for free throughout the relief effort campaign.
In an eLearning environment, our typing biometrics solution can be used for identity authentication within two scenarios. It can occur while students type their login credentials to secure access to the online platform. But, the solution can also be used to ensure they are the ones actually doing the work, so, students may be prompted to type a short text in a pop-up window during a course or an exam.
In harmony with the affordable and self-paced nature of Sophia's courses, using TypingDNA's authentication does not require students to spend money on expensive proctoring hardware—like fingerprint readers or special webcams. Students only need to type on their keyboards to validate their identities.
For more information or to start a course, check out Sophia's website.