The World Health Organization has declared COVID-19 a pandemic, as the virus spreads at an alarming rate across the globe. In turn, governments have been required to take an integrated cross-sectoral approach in preventing and minimizing the impact of the virus. Companies and public institutions are closing their offices, and more and more schools and universities are following suit.
Over 45 countries have announced school or university closures, according to UNESCO. These actions, while necessary out of caution, are directly impacting the education of hundreds of millions of children and youth around the world.
To continue their courses, these schools and universities are transitioning from in-person to online courses—which also means IT resources might be scarce. While most students have access to laptops or desktops, supervision can prove difficult due to a lack of proctoring hardware.
To help with exam proctoring and students' remote authentication, we are giving schools and universities our typing biometrics authentication API service for free within their learning management platforms. Our technology allows students to prove their identities by simply typing a short text on their keyboards.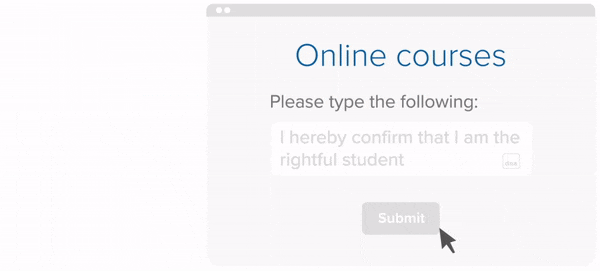 Verifying learners' identities with typing biometrics authentication is something we've done since the company started in 2016. Students prefer this method because it's privacy-friendly and quick. To get started, just a short typing sample is required. Check out our education use case page for more information.
We are thrilled to be supporting Sophia Learning –one of our key clients in the field of online learning– in their endeavor to offer students free access to ACE-recommended general education courses in these challenging times. By providing our typing-based authentication API for free within their online learning platform, Typing DNA will ensure students' identities can be validated in a fun and user-friendly way. For more information about Sophia's free online courses, visit their website.
What do we offer for free?
Up to 8,000 learners/month
Up to 3 months of API services
How can you apply?
Use the form down below to get in touch with us.
Alternatively, you can email us at contact@typingdna.com