The TypingDNA team recently returned from the RSA Conference and we had an incredible time.
In the paragraphs that follow, we share thoughts about our experience at the event, the main topics we discussed, and how those topics relate to our company's mission.
The human dimension
The RSA Conference aimed to help the cybersecurity industry mature with a focus on the importance of people as drivers of meaning, innovation, and support. Tackling cybercrime starts with having a common understanding of current issues at stake while enabling each other to take on our roles as "defenders of the world."
The human dimension theme of the event highlighted the idea that good actors in cyberspace share the heavy responsibility of securing the world's future by protecting the tools that connect people—something that's increasingly important in an era where feelings of division are taking a toll globally.
Learning by sharing stories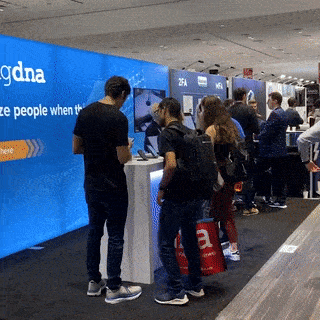 We believe that open dialogue and collaboration between people from different backgrounds empower us to adapt and to find creative and innovative solutions to the ever-evolving cyber threats we face. Sharing anecdotes about individual experiences and best practices in cyberspace is a great way to kick off that collaboration.
Our booth provided the perfect space to have these essential conversations.
It was inspiring and refreshing to learn from the hands-on experiences of our fellow cyber tech innovators as our team focuses on pioneering avant-garde typing biometrics technology worldwide.
Our goal is to keep people safe wherever and whenever the type. To accomplish this, we work with our partners and customers to make typing biometrics technology more available and easy to integrate into existing security systems.
This approach to infosec is especially significant in today's digitalized world where global trends show typed communication as the preferred choice for interactions.
Connecting with our partners
Our partnerships with cybersecurity enterprises are an opportunity to show how typing biometrics technology can be integrated into powerful solutions that provide state-of-the-art security and user-friendly experiences at the same time.
Having the chance to meet with some of our partners' teams—including folks from GreatHorn, Optimal IdM, and XTN Cognitive—was one of the main perks of the event.
In their booth, GreatHorn, for example, showcased an email authentication demo that leverages our frictionless typing-based technology within their account protection solution, ensuring stronger security and better user experience for their customers.
Accountability, usability, and security
Emerging data protection regulations such as GDPR in Europe and the California Consumer Privacy Act in the U.S. require organizations and enterprises of all levels to assume responsibility and be accountable for any unprotected back doors in their critical infrastructure. This includes the deployment of more secure authentication measures when accessing sensitive information.
Despite this, protecting users' privacy while concurrently ensuring a good user experience seems like an impossible dream for many businesses—which is why 75% of businesses are looking for the right balance between security and usability.
Unlike mainstream facial recognition and hardware or software tokens, API-based typing biometrics can authenticate users passively without the negative impact on the customer experience.
Looking ahead to 2021
All in all, our experience at the RSA conference gave us the perfect opportunity to discuss the latest trends and developments in cybersecurity, AI and biometrics. It also enabled us to chat with security experts, meet with partners, and connect with people who are interested in securing the world with modern, user-friendly tools.
We enjoyed our time in San Francisco and hope to see you at the RSA Conference next year!