From laptops to headphones, call center employees working remotely require the right equipment to be successful. But working from home presents an even bigger challenge: sensitive customer data is now spread across thousands of company laptops — so knowing who is accessing your company's devices at all times becomes increasingly important.
Below, we explore why Endpoint Security is fundamental to safeguarding customers' data. And what steps Call Center BPOs must take to comply with privacy & security regulations like PCI, HIPAA, and GDPR when employees work remotely.
Table of contents
Call Center security best practices to protect customer data
Some equipment aspects affect employees working from home more than those in the office, and vice-versa. But, while a noise-canceling headset is more important for employees working in busy offices, security measures like endpoint security on remote devices are tools relevant to every employee.
Some questions to ask yourself:
What data must you protect?
What compliance regulations affect your company and your workforce?
What legislation is relevant to your type of business and the type of data you handle?
What are the long-term objectives and short-term objectives of adding new security processes?
How do you train employees to use the new security protocols?
How do you implement a swift cultural change to approaching security across your organization?
Call Center data security
Robust organizational measures to heighten security remain the number one challenge for call centers because of the high costs associated with the back-end implementation. They also imply training all staff and adapting to newly implemented security protocols.
However, one quick thing call centers can do to safeguard data is to prioritize the security of the devices employees use in their day-to-day activities by adding authentication directly on the company laptop or desktop.
But while authenticating employees with fingerprint and facial recognition when using their computers is often expensive and intrusive, behavioral-based technologies such as typing biometrics are done frictionlessly and offer privacy by design.
Call Center compliance monitoring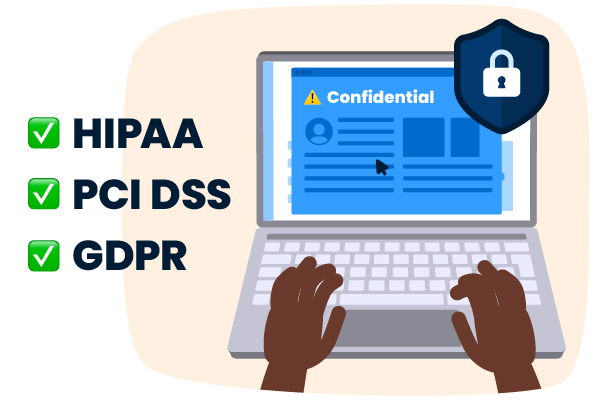 Call Center compliance monitoring refers to organizations having to carefully conform to all rules and regulations set by a regulatory body or the organization itself. Significant fines and the loss of customer trust are just some of the negative effects of failing to comply with call center data security compliance laws.
How relevant specific data protection laws are to call centers differs by country. Below, we take a look at three of the most popular ones: The General Data Protection Regulation (GDPR), the Payment Card Industry Data Security Standard (PCI DSS), and the Health Insurance Portability Act (HIPAA), but there are other essential regulations to look out for, such as the Telemarketing Consumer Protection Act (TCPA), the California Consumer Privacy Act (CCPA), and the Fair Debt Collection Practices Act (FDCPA).
Does GDPR apply to Call Centers?
GDPR applies to call centers because they handle customer data. And although the regulation is enacted by the European Union (as call center agents cannot easily detect someone's nationality), the law applies globally.
From requesting consent for recording customer calls to putting forward clear transparency and privacy notices, call centers have been adopting various new strategies and procedures to abide by the GDPR law throughout all of their data-related activities.
And, even if a call center acts as an outsourced contractor for another company (for example, a BPO), they would still be required to share responsibility with the respective company for any potential data breaches. Besides the legal obligation and possible financial consequences, not complying with GDPR is also unacceptable from a consumer perspective, as people expect more transparency and privacy from companies.
Call Center PCI Compliance
The Payment Card Industry Security Standards Council (PCI SSC) oversees credit card and payment information handling through PCI guidelines. Though PCI validation is not required for all industries, staying compliant is still recommended as it can help guarantee customer data privacy, which in turn nurtures customer trust.
There are many PCI compliance requirements, some of which are more complex than others. Some examples are having and maintaining firewall configurations, anti-virus systems, and applications, controlling data access, tracking and monitoring network resources, and cardholder data.
While the downside to being required to implement a sturdy security infrastructure is that it takes time and can be costly, the bright side is the return on investment when customers trust the organization can keep their data safe. It also doesn't hurt to stay away from significant fines.
Data security remains the main point of PCI compliance, so managing access control to that data is vital in keeping it safe. When continuous authentication is added to your company endpoints, the security software runs non-stop in the background —constantly verifying that only your authorized employees can access your company's computers.
Ultimately, continuous authentication makes sure that no one else, such as your employees' friends or, worse, potential malicious thieves, can access the precious data on that computer. One example of continuous authentication technology is TypingDNA's ActiveLock Endpoint Solution which recognizes users by how they type, locking out any potential intruder or unauthorized user when they physically take over your employees' computer.
Does HIPAA apply to Call Centers?
HIPAA compliance applies to call centers that handle physical or electronic protected health information (PHI or ePHI) of patients and customers on behalf of HIPAA covered entities such as healthcare providers, healthcare clearinghouses, and healthcare plans.
Some steps to take for call centers to safeguard PHI and ePHI and comply with HIPAA requirements are protecting passwords and securing and encrypting data.
While these steps are crucial, they are also likely to have a long implementation duration. So, to make protected health information less vulnerable and less accessible to potential intruders quickly and inexpensively, call centers could start by adding continuous authentication directly on employees' endpoint devices.
Tips for Call Center agents working from home
Let's take a practical example to understand why call centers must prioritize the security of their employee's work devices. And how adding continuous authentication software can be a quick and easy way to protect customer data.
Imagine you are managing a team of call center agents working from home. Employees' activity includes handling payment information for a private hospital's patients. In this case, your call center would be required to comply with both PCI DSS and HIPAA. Knowing that the purpose of both of these regulations is to protect customer data, securing company equipment is a constant variable to consider as your team works remotely from across the globe.
Devices can be intentionally or unintentionally shared at any time, either with family members and friends for innocent reasons or with potential malicious intruders by mistake. Or one of your employees could leave their device unattended and unlocked in a coffee shop for a few minutes, just enough time for an intruder to use a memory stick and steal customer data.
Though grim, this scenario is not unrealistic, as data breaches continue to emerge, especially as health and payment information are some of the most valued data types.
Continuous endpoint security for remote Call Centers with ActiveLock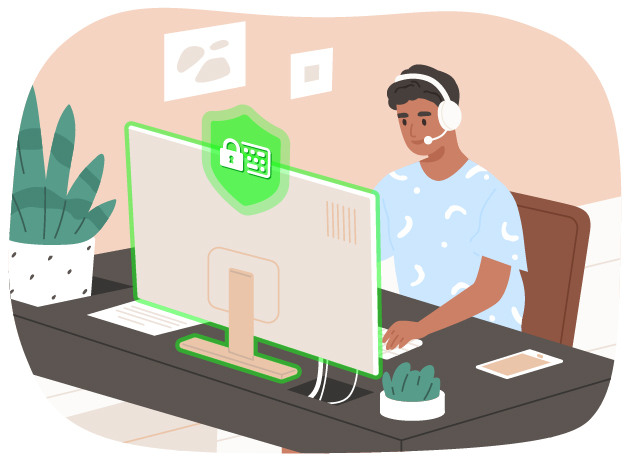 While a strong security infrastructure takes time to implement, it certainly is required for any call center to be able to handle customer data security professionally — especially for the long term. Call Centers must have software and security systems in place to establish multiple layers of security for data handling and data storage.
Using a continuous authentication technology protects company endpoints from unauthorized access, ensuring that no one other than the authorized employee handles confidential customer data — helping you stay compliant and maintain customer trust.
Learn more about how ActiveLock keeps sensitive data out of harm's way by authenticating your remote workforce based on how they type.
Remote Call Center equipment best practices
Basic hardware requirements for any call center agent include a laptop or computer with a good bandwidth internet connection and a set of headphones with a microphone.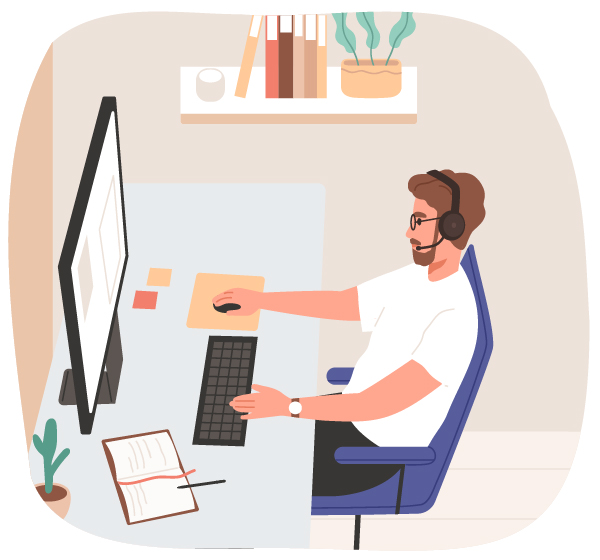 When choosing computers and laptops, some tips are getting the latest version of the preferred operating system (usually Windows or Mac OS), having enough RAM and hard disk space, and having security measures, including using VPNs, antivirus, and spyware protection software.
Call Center hardware equipment list
A comfortable and efficient working environment increases productivity for employees working at the office or at home. An example of a possible set-up configuration for call center employees would be an ergonomic desktop workstation, a decent laptop or computer, a mouse and mousepad, and a headset.
Best Call Center software
Software choices affect not only productivity and team dynamics but also have a toll on the customer perception of the company. When choosing software for your call center, keep in mind both the internal and external variables; in other words, don't forget who is supposed to interact with each tool you choose.
5 must-have software for any Call Center
A call recording cloud-based system integrated with the analytical system for supervising calls and quality assurance reasons
A Voice over Internet Protocol to make calls securely over the internet instead of an open landline. And don't forget to add an Automated Call Distributor to manage high volumes of calls and raise productivity.
A Dual Tone Multi-Frequency software (DTMF) for agents to securely collect payment information and process transactions, as customers don't need to read aloud their information to the agents, but enter their credit card information into their phone handset
A call center software accompanied by a customer relationship management (CRM) software to be able to track and monitor any customer interaction across company departments
A continuous authentication security software added to all employee devices to ensure that only authorized users have access to the company device and sensitive customer data. The ActiveLock app continuously authenticates employees based on their typing behavior and locks out any potential unauthorized access, while flagging the IT department.